A Critical Voice of Transnational Adoption in Denmark
Date: August 28, 2015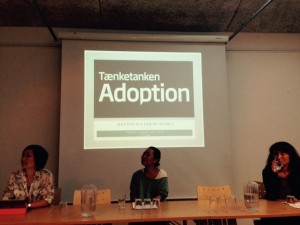 My name is Yong Sun Gullach, I am the present Chairwoman of Forum for Adoption Politics.
Thank you so much to Think Tank Adoption for inviting us to present our organization. It is a big honor to be among the pioneers and activists within the critical voice of adoption field tonight.
Forum for Adoption Politics is an organization open for everyone who questions the system of transnational adoption as being practiced in Denmark today. The mission of the organization is, among other things, to position adoptees as experts on our own lived experiences, knowing that adoptee voices should, as a minimum, become an equal part in the formulation of adoption-related policies. We wish to foster debate, which in the long run will lead to radical reforms of the system of transnational adoption.
The mission statement of Forum for Adoption Politics is:
To address topics and issues connected to adoption.

Through distributing knowledge, monitoring adoption praxis and through activism, create awareness and advocate for changes of the adoption system.

To make adoption visible in the public debate and ensure adoption is a part of the political agenda.

To initiate and start changes in a stagnated adoption system.

To contribute to further information and knowledge about aspects connected to adoption.

To create a forum for people affected by adoption, where knowledge sharing, support and exchange of histories is possible.

To cooperate in a broad sense both nationally and internationally.
Forum for Adoption Politics was founded in early 2014, has nine board members, and since its start has initiated several public events and projects. We emerged from a group of activists inspired by the activist adoptee communities in, for example, Korea, India, Denmark and USA. After starting as a Facebook group, Forum for Adoption Politics chose to formalize itself as an organization at the end of 2013, and in January 2014 we officially hosted the launch of our organization.
During our one and a half years of existence we have proved the need for an organization such as ours. Monitoring the work with the so-called "change of the law" on adoption in Denmark in the wake of several large scandals, and analyzing the political network of cooperation between lawmakers, adoption agencies in Denmark and the larger adoption lobby has demonstrated the importance of an adoptee lobby organization.  
There is a need for Forum for Adoption Politics as a watchdog as:
The responsibility of ensuring us the basic rights committed to in the UN Convention on the Rights of the Child is continuously neglected. The Convention on the Rights of the Child is not referred to legally or politically as adoptees' basic rights, and, as such, adoptees, are to date denied these.

Transnational adoptees are neither acknowledged as experts on their own stories nor informed or acknowledged as a target group on equal premises as the adopters.

Transnational Adoptees still do now own the rights to their own files.

The Danish adoption structure does not ensure the validity of adoption papers and does not ensure that transnational adoption is absolutely the last resort.

Beneficiary aid and aid work is still linked to transnational adoption, thereby supporting and creating an unhealthy financial dependency between sender and receiver countries, and thereby maintaining sender countries in a dependency role and poverty structure they are unable and unwilling to change.

The rights and existence of the original family in its broadest sense are not ensured nor acknowledged in the adoption process.

Huge problems with the Danish legal foundations in both the existing and upcoming revised law on adoption are not addressed nor taken seriously;

There are no post adoption services offered for adult adoptees and no public funding is given directly to the adoptees themselves.

There is little or no focus on racism, social control or marginalization affecting transnational adoptees.

Forum for Adoption Politics have no doubt there is a need to continuously pinpoint these issues politically, in the public debate, and last but not least on a private level – among ourselves – to remind us that we have a fundamental right to be heard, to be empowered and to be acknowledged. The fight will continue. Thank you.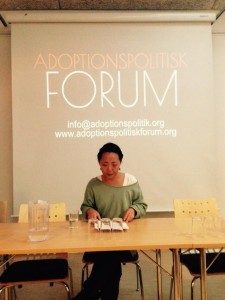 The speech was given at an event called "Adoption in a time of critique" at Korea Klubben, the Danish Association for Korean Adoptees, celebration of its 25th anniversary. In connection with the festivities Tænketanken Adoption [Think Tank Adoption] hosted a seminar on adoption critique. The seminar featured short presentations that highlighted some of the issues and questions that have become central to the political movement of critical adoptees in Denmark.
Tænketanken Adoption is an independent think tank committed to produce and disseminate critical knowledge on adoption to the Danish public. The think tank is organized by a collective of adult transnational adoptees. For more information see our website: http://www.taenketankenadoption.dk/