Denne begivenhed er allerede afholdt.
Flip the Script 2021
lørdag, 20. november, 2021 @ 10:00

-

søndag, 21. november, 2021 @ 16:00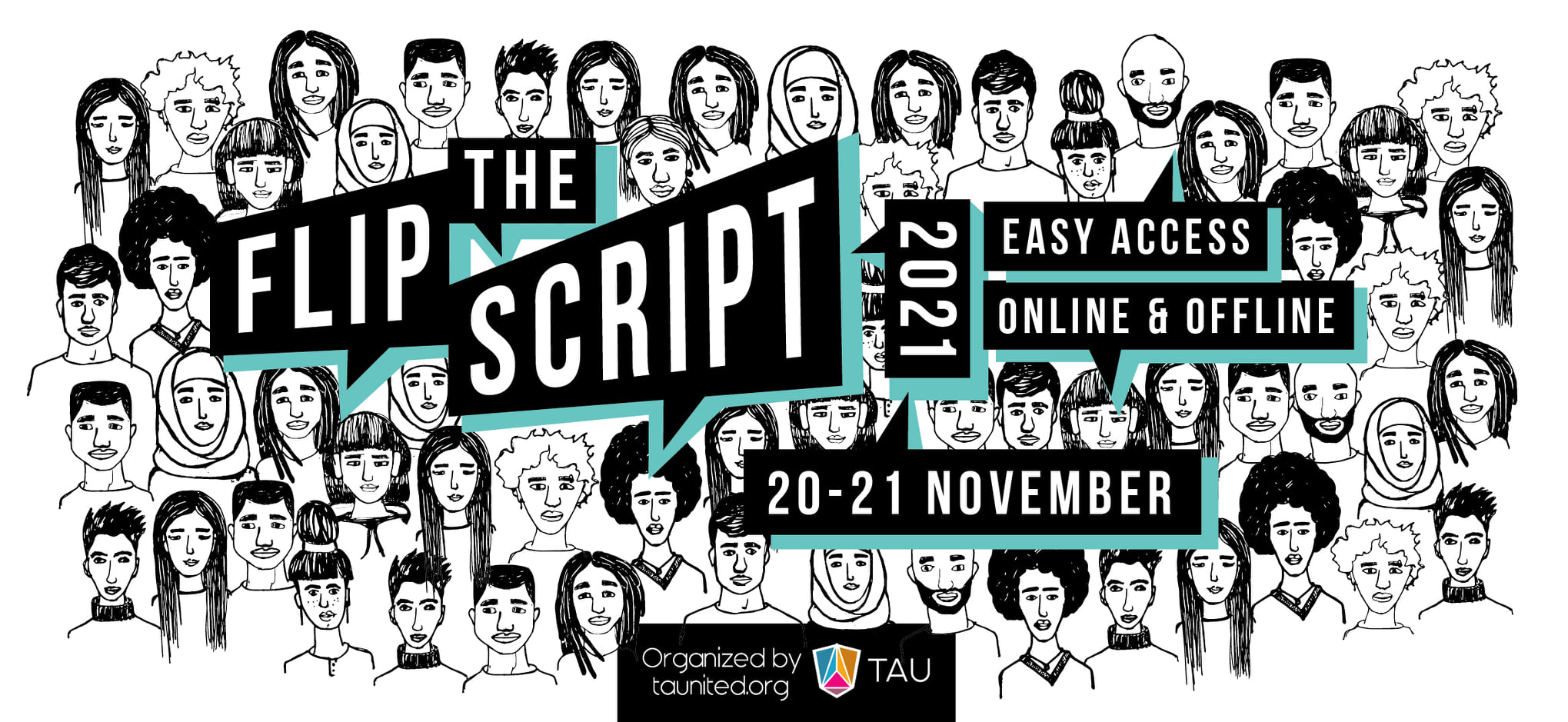 Flip the Script is an annual conference organized by, with and for transnational adoptees. Flip the Script wants to highlight the voices and experiences of transnational adoptees.
—————————–
20 November 2021
Saturday online program
For Transnational Adoptees alone
—————————–
10.00 – 12.00
To create family as TNA 
Moderators: Louise Hedegaard Madsen (APF), Yong Sun Gullach (APF)
10.00 – 12.00
LGBT+ meeting for LGTB+ TRAs
Moderators: Carmen Picado Jacksom (TAR), Cecilie Hedegaard-Elmsted (APF)
12.00 – 12.30 Lunchbreak
12.30 – 14.00
Anti-blackness within the adoptee community
Moderators: Mica Oh (TAR), Gabriel Ovalier (TAR)
14.00 – 14.30 Coffee break
14.30 – 16.00
Art as practice for activism
– lets create network amongst adoptee artists
Moderators: Carmen Picado Jacksom (TAR), Yong Sun Gullach (APF)
14.30 – 16.00
How to support each other as Critical nordic organisations of TNA
Moderators: Angelica Bråten (UTAD) and TAR
———————————–
21 November 2021
Sunday Online/Offline program
Open for all
———————————–
Offline participation – Easy Access
Salen, Kulturhus Indre By
Charlotte Ammundsens Plads 3, 1359 Copenhagen, Denmark
If a sign language interpreter is needed –
please let us know in advance so one can be provided
[email protected]
10.00 – 12.30
Disability and Adoption 
What does it mean to be disabled and at the same time a transnational adoptee in Scandinavia? In general, disability has been left out of the critical discussions on transnational adoption, and the participants in the panel Disability and Adoption would like to change this. We will share and discuss our viewpoints on topics such as welfare and health-care, and the typical narratives on adoption and adoptee life being disabled transnational adoptees ourselves who have grown up in the welfare states of Norway, Sweden, and Denmark. The discussion will be held in English. For those of you who are not able to attend in person, the discussion will be broadcasted as a podcast after the event.
Panel members: Mitja Kristine Munk Klarup,  Malin Young-Hee Bernt,  Angelica Bråten (UTAD)
Moderating by Mette A. E. Kim-Larsen, PhD student in Anthropology at UC Irvine with a background in Comparative Literature and Cultural studies. Her past work has mostly been focused on adoption and race, and in her PhD project she be focusing on how kinship is established in transnational adoption in Denmark through the lens of disability and race.
12.00-12.30 Lunchbreak
13:30-14:30
The Jousta Rapport and a full stop for International adoption
A look at the Report of the Dutch Committee Investigating Intercountry Adoption and the Report of the Flemish Expert Panel and it's implications.
Lecture by Arun Dohle, Director of Against Child Trafficking, The End of Intercountry Adoptions
14:30-15:30
Corruption within the adoption system
A look at the Swedish debate on the corruption within the adoption system and the upcoming Swedish government investigation into the matter.
Lecture by Tobias Hübinette, Ph.D. in Korean studies, Lecturer and researcher at Karlstad University, Sweden
15:30-16:00 Networking- and music lounge